"Used for central heating and ship servicing. Beware of rats."
Summary
The service vent allows horizontal movement of overlapping crew in both directions.
Offensive Strategy
Defensive Strategy
An Armor block may be placed above a vent to armor two adjacent rooms whilst still allowing passage between them.
A service vent placed next to a Lift may be used to stop crew from taking damage while waiting for the lift carriage to arrive.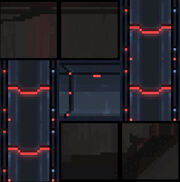 Trivia
Statistics
| Ship Level | 1 | 2 | 3 | 4 | 5 | 6 | 7 | 8 | 9 | 10 | 11 |
| --- | --- | --- | --- | --- | --- | --- | --- | --- | --- | --- | --- |
| Number Available | 0 | 0 | 0 | 5 | 5 | 5 | 10 | 10 | 10 | 15 | 15 |
| Level | Upgrade Cost | Ship Level Required |
| --- | --- | --- |
| 1 | 2.5K | 4 |